THIS IS THE LAST NIGHT OF MY TRIP. Tomorrow, my friend Jonathan will join me at Seattle's Shilshole Marina and help me get through the Ballard Locks into freshwater Lake Washington and on to Kenmore—home—at the north end of the lake.
After I'm settled in and have the boat and my gear cleaned up and stored for the winter, I'll write a summary post; and when he gets home, Harvey will send me some of his favorite pictures from the trip, which I'll post here.
But, barring last-minute excitement transiting Lake Washington tomorrow, my trip is over. I have been out since May 31, 97 days, and have logged 3,674 nautical miles, or 4,228 land miles. 
That's a little more than the distance by land from Seattle to Managua, Nicaragua, or by sea from New York to London.
In the past four days, in my eagerness to get home, horse galloping for the barn, I've traveled about 230 nautical miles, from Campbell River, B.C. to Kingston Wash. One of those days—when I decided I can get across the border TODAY if I push it—was 110 nautical miles.
So I've been eager to get home; but it's been a wonderful adventure. I had good luck, with the boat, my health and the weather, and I feel very fortunate to have made the trip. After I get this posted (iffy wifi at the Port of Kingston Marina), I'll walk up the street for supper at the pub, and then turn in early for my last night afloat.
Since leaving Campbell River, I have been treated to some wonderful sights, including a gorgeous sunset at Tribune Bay, on Hornby Island, my last night in Canada. Thanks, Canadians, for being such kind, generous people. The weeks I spent in your waters were exhilarating. I hope to be back.
The last few days have been filled with … many lighthouses, including:
Tuesday, I made my last "big water" crossing, about 18 nautical miles across the East Entrance of the Strait of Juan de Fuca. It's always a good idea to treat the Strait with respect—especially at the East Entrance, which gets the full brunt of wind funneled uninterrupted down the Strait for 80 miles from the Pacific. There can be fierce winds and high seas here, but fortunately the weather was calm Tuesday.
The Strait is also known for fog, however, and as I turned the corner south, from Anacortes, down Rosario Strait and into Juan de Fuca, I hit a wall of fog and visibility dropped to a few hundred feet.
After long white-knuckle minutes, eyes glued to the radar screen, I emerged from the fog at the entrance to Admiralty Inlet—and what looked like a flotilla of vessels heading straight at me. Yipes, one of the ships appeared to be … a Trident nuclear submarine.
A red 25-foot Coast Guard Response Boat, with an M60 machine gun mounted on the bow separated itself from the the other vessels and came roaring up alongside Osprey. Hailing me on channel 16, the   coasties told me they were escorting the sub out from the Trident base at Bangor. They asked me, very politely, to stay 1,000 yards from the sub—and then ran parallel beside me for several minutes to be sure I did.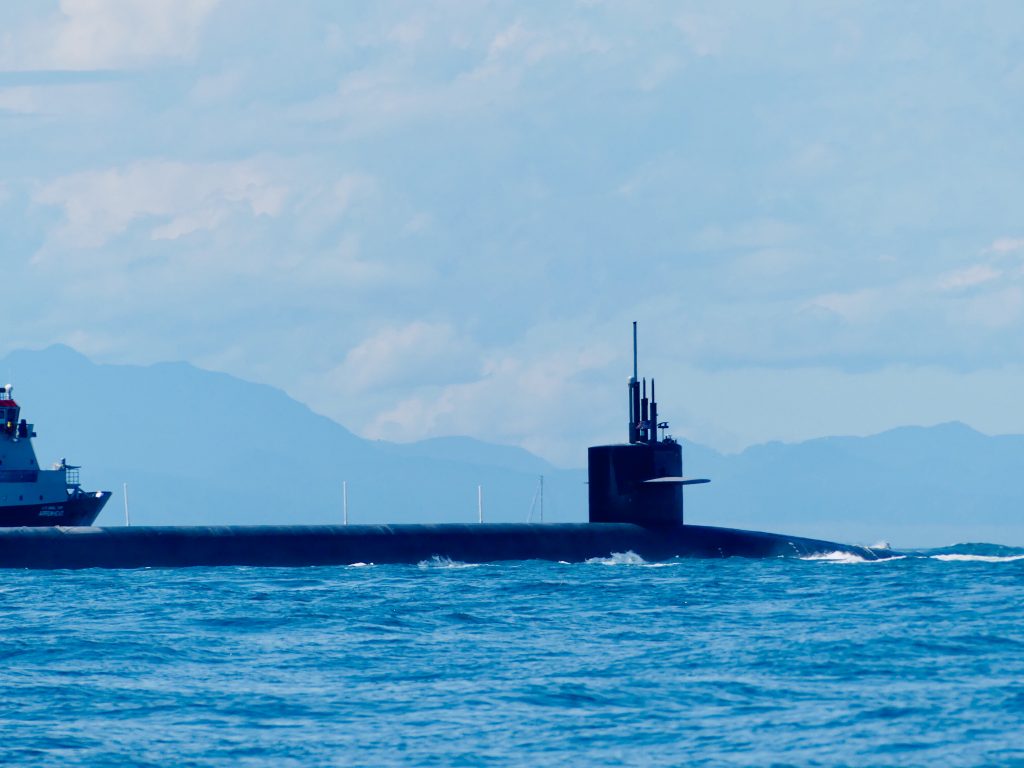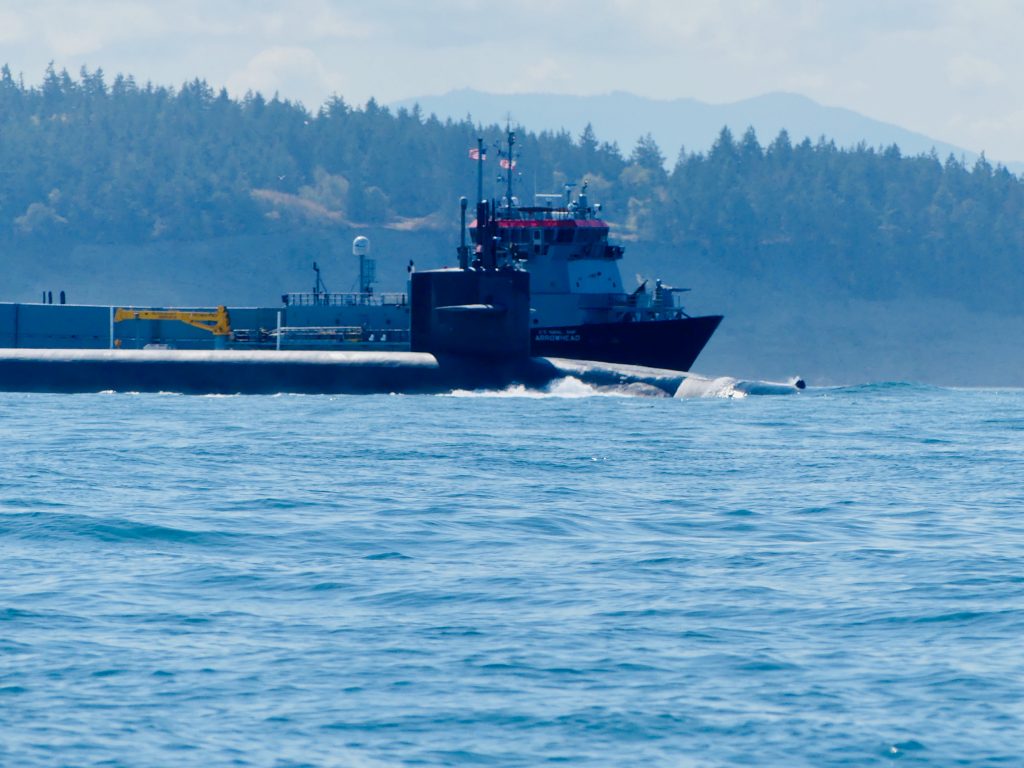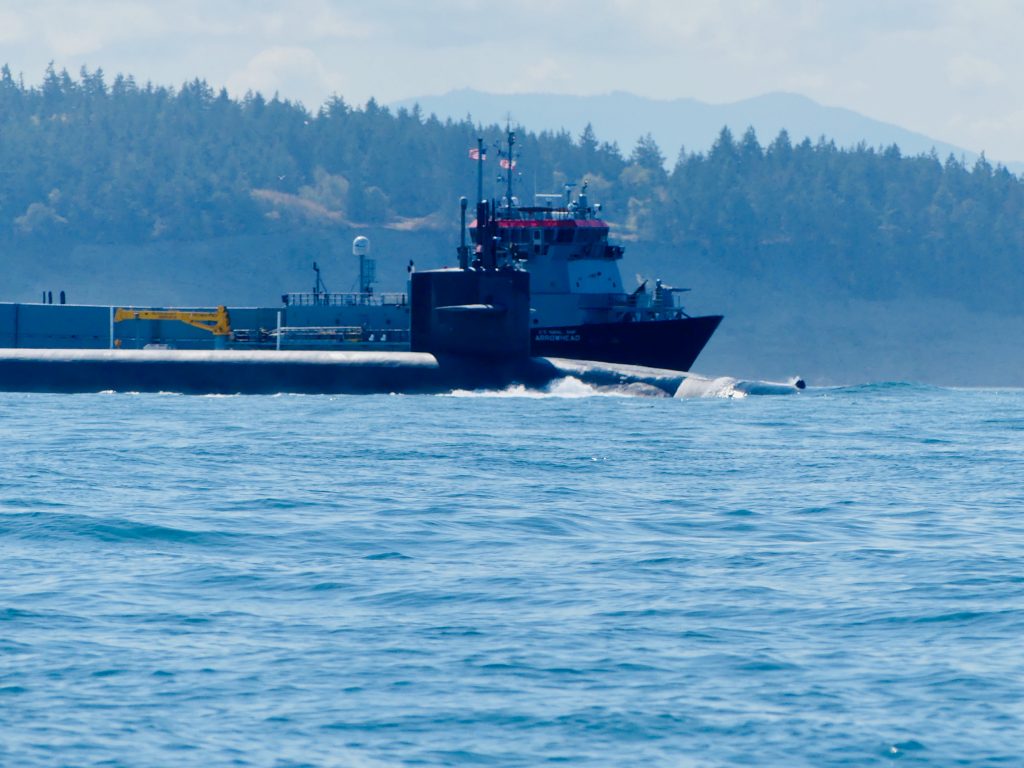 When the sub and its escorts had passed, I motored through the churning Point Wilson tidal rip, across to Port Townsend, which is getting ready for the big annual Wooden Boat Festival, this weekend. I'm back in home waters now; back in the place I love best.