PINK SALMON WERE JUMPING in the harbor as purse seiners and drift gillnet boats streamed out of Juneau's Auke Bay last night for a short net-fishing opening. It was easy to wonder if I was witnessing the end of an era.
Due in part to oversupply and overwhelming competition from factory fish farmers, commercial salmon fishers across the state of Alaska are being paid all-time low prices for their catches. And other factors—such as an environmental lawsuit seeking an outright ban on the state's king salmon troll fishery—are causing many captains to reconsider whether fishing remains a viable means of supporting their families.
Although a federal appeals court earlier this month granted trollers an at-least-temporary reprieve—issuing a stay on a lower court's order that would have closed the king salmon fishery indefinitely—the skipper of the big freezer-equipped troller Searcher, tied up next to Osprey, told me the price being offered for his top-quality kings is so low he can't afford to sell his catch.
It's complicated.
Craig Medred, dean of Alaska outdoor writers, argues (I think simplistically) that the decline of the state's once-booming salmon industry can be boiled down to one word: "Greed." Citing a 2007 World Wildlife Federation report, Medred says the successes of Alaska salmon fishing 40 years ago—"the now unbelievable price of $7.39 per pound being paid for salmon at the start of the 1980s"—persuaded Norwegian entrepreneurs to invest heavily in fish farming. In the early 1980s, Medred writes, salmon farming was "a two-bit business with high production costs." But by 2021, "farmed salmon accounted for 79.7 percent of global salmon production, and the trend toward farmed salmon and away from wild salmon is continuing as the farmers become ever more efficient."
Bad prices and changing industry economics aside, however, Auke Bay was full of fishing boats this week, preparing for the four-day opening: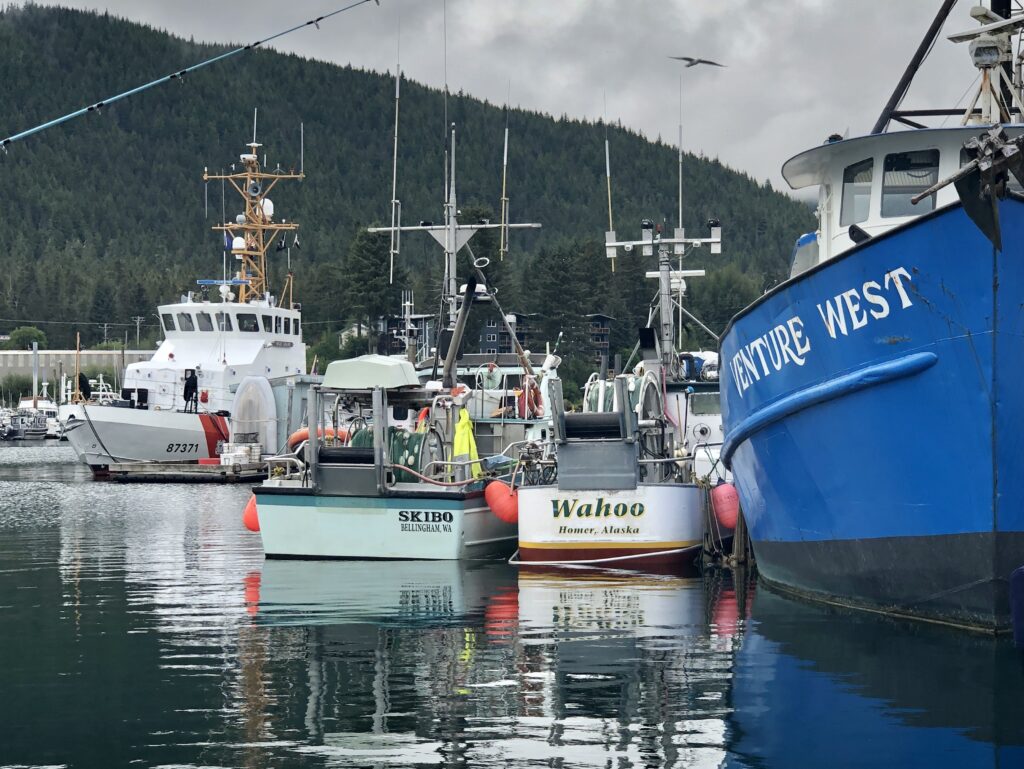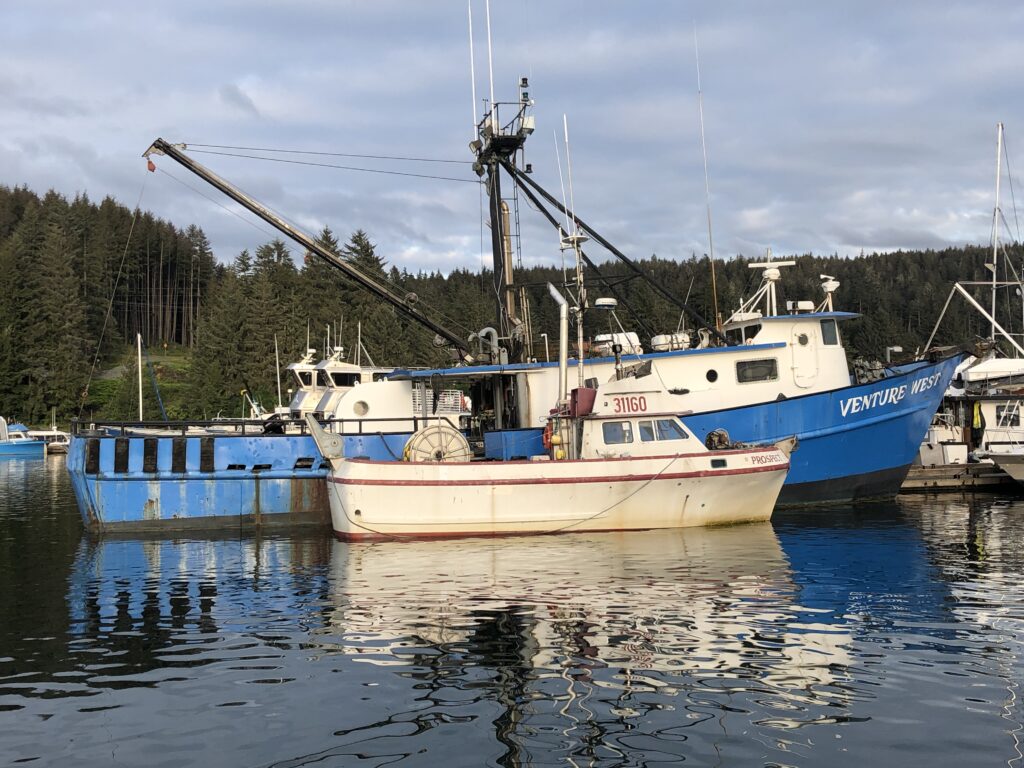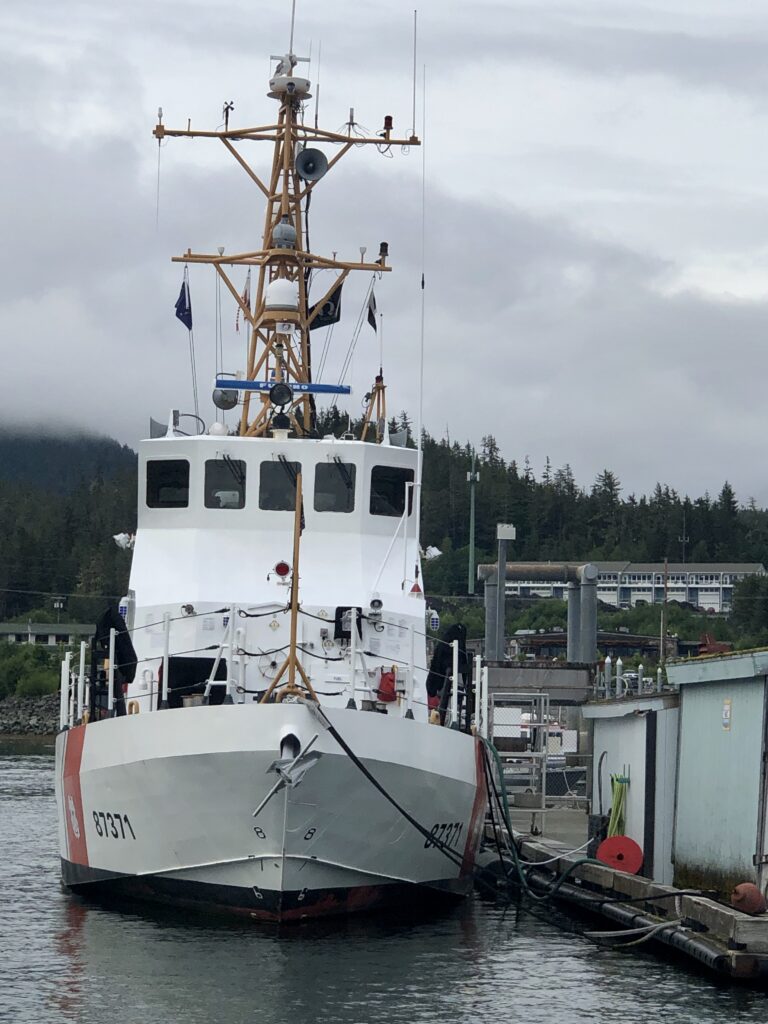 MARY RYAN AND HER BROTHER Andy were staring at the nautical chart of the Endicott Arm fjord as they approached the big Dawes tidewater glacier. For the past two miles the chart showed there should be solid glacial ice under Osprey's hull. Instead, there was a water depth of 400 feet, the murky surface littered with hundreds of "bergy bits" and "growlers," through which we carefully threaded our way to get close to the massive glacier. I couldn't tell when the electronic chart of Endicott Arm was last updated, but it couldn't have been all that long ago; and the evidence of a warming planet was on full display.
The day before, we had waited for high slack tide and made our way into Ford's Terror, a glacial bowl noted for its fast, powerful tidal currents. In 1899 American naval crewman Ford made the mistake of taking a rowboat into the current and was trapped for six hours in the mountain bowl that came to bear his name. We avoided a repeat of Ford's terrifying experience but as the sun set our lovely anchorage was suddenly swarmed with savage biting black flies. These horrid little blighters—small enough to squeeze through Osprey's window screens—are my absolutely least favorite thing about boating in British Columbia and Alaska. One night in Ford's Terror was enough for us, and we made a hasty retreat the next morning.
On our way out of Endicott Arm, heading north to Juneau, we were treated to sightings of a humpback whale wildly splashing its enormous foreflippers in the current; to a lone male brown bear scavenging along the shoreline of the Snettisham Peninsula; and to weirdly shaped bergy bits floating out into the shipping lanes of Stephens Passage.
From Petersburg to Juneau is about 107 nautical miles, the longest stretch without a fueling station Osprey will face this summer. We were carrying extra gas, but as we made our way north along the length of the nation's seventh largest island (Admiralty Island, 1,646 square miles, slightly smaller than the state of Delaware) we were running on fumes. Next time we'll go slower, save gas.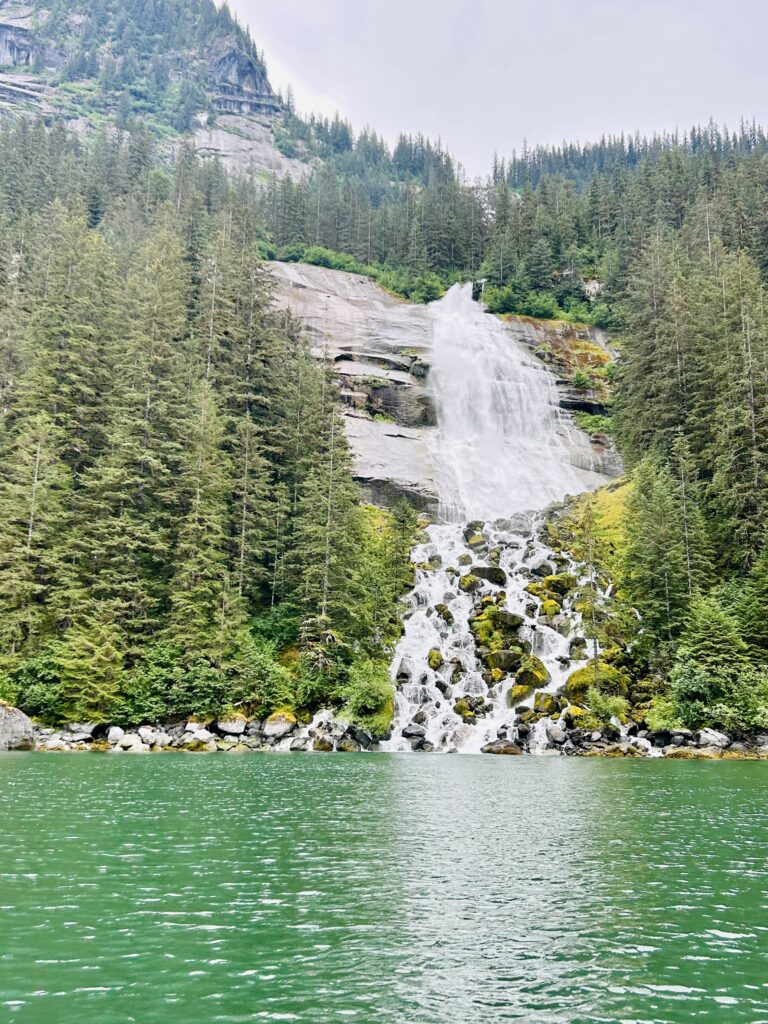 Waterfall deep in Endicott Arm (Mary Susan Ryan)
BIG BROWN BEARS happily grazing like cattle on lush green grass along the shore in Misty Fjords National Monument. A harbor crammed with enormous cruise ships, and hundreds of tourists milling about the streets of Ketchikan. An insane 4th of July fireworks battle—featuring armored boats firing flamethrowers—at the normally laid back logging town of Thorne Bay. An aborted attempt to navigate the mudflats of aptly named Dry Strait on a falling tide. Andy's and Bob CJ's adventures during their 1,300-mile trip from Kenmore, Wash. to Petersburg, Alaska were too numerous to count. But we took some pictures: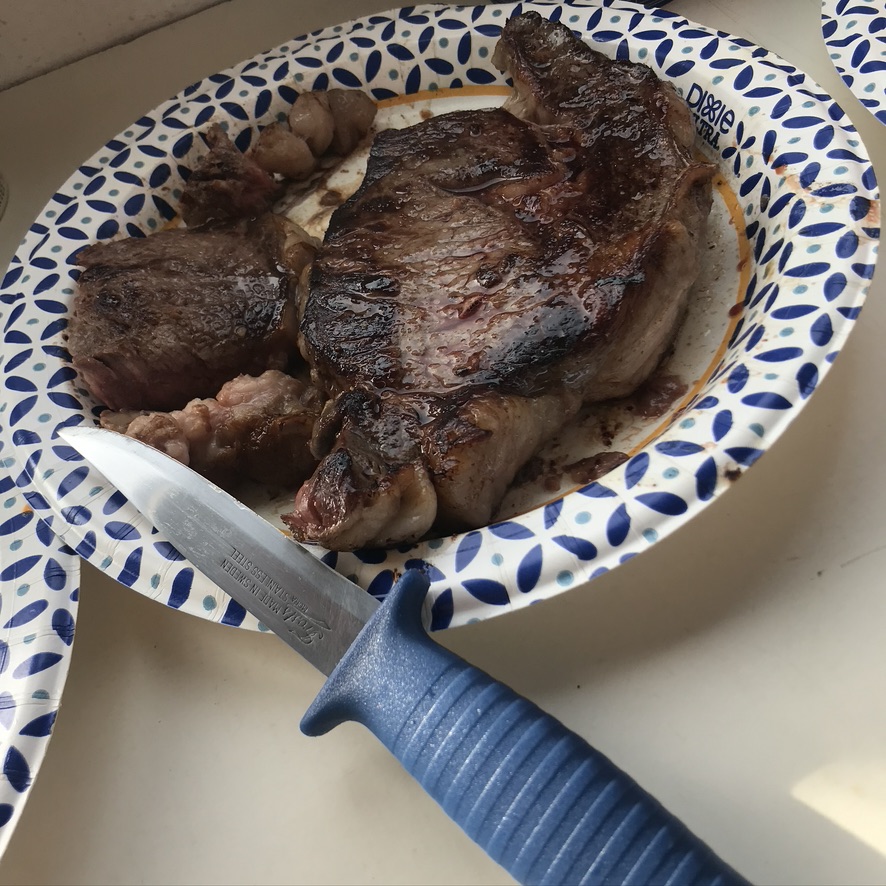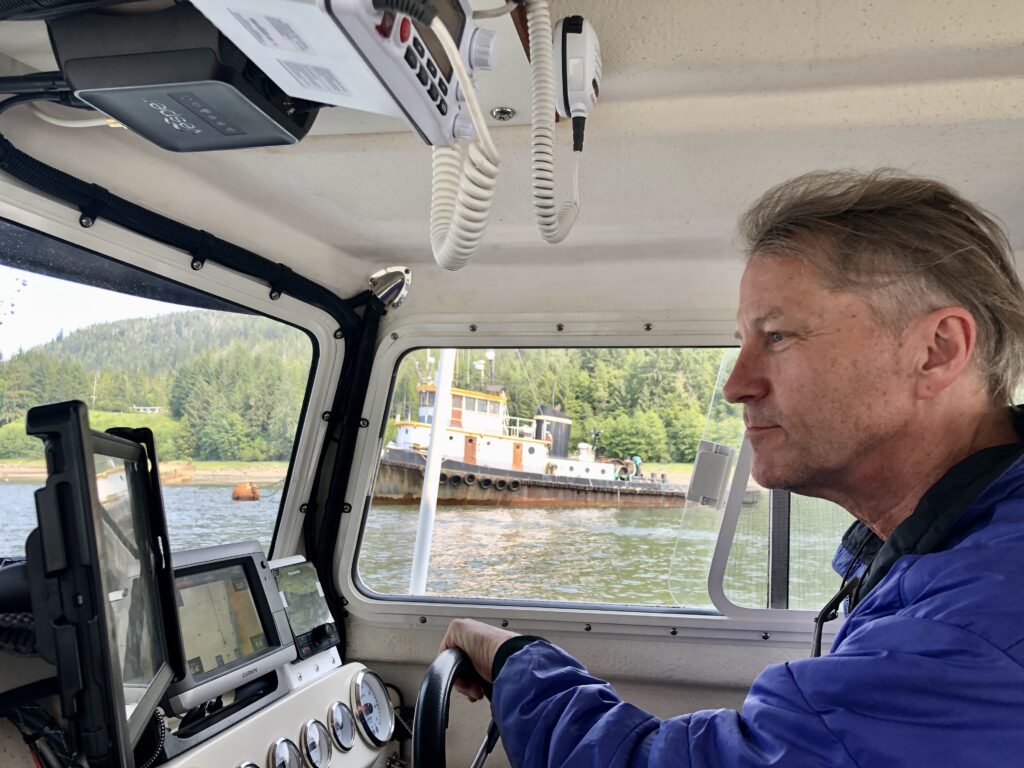 Bob CJ navigating Wrangell Narrows, en route to Petersburg